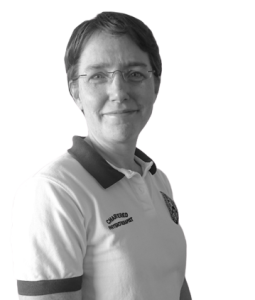 With over 20 years of varied experience I consider myself to be a highly effective and established physiotherapy practitioner. At the centre of my services are the specific needs of my clients, creating opportunities and programmes of physiotherapy to best develop their physical and functional needs.
With a special interest in exergaming (the use of video games in therapy) I look after the wiihabilitation.co.uk website and offer therapy with gaming in the comfort of clients own homes through interactivephysio.com.
I hold both a BSc (Hons) in Physiotherapy (1999) and a MSc Health and Social Care (2006) and am a member of the Chartered Society of Physiotherapy (CSP) and a registered member of the HCPC.
I am the mother of two energetic young boys who keep me busy whilst I am not working enjoying a mix of computer gaming, canoeing, cycling, skateboarding, climbing and providing a taxi service to get them to their friends and clubs.  In my spare time I enjoy working at my allotment or on restoring (which is more of a desperate effort to prevent bodywork disintegration) my 1977 MG Midget (rubber bumper for those interested).  Life can be pretty full on but at the core of what makes me tick is the ability to use my skills and knowledge to help others, whether that be with injury, movement disorders or on their own learning journey to become a physiotherapist.  Alongside me, supporting me on a daily basis, is my Husband without whom I'd wouldn't be able to achieve half of what I do.  
To contact me email hello@rebeccathephysio.co.uk